South East of Stirling
[ Home ] [ What to see in Stirling ] [ East ] [ Stirling North & West ] [ South East ] [ Southwest of Stirling ]
Pineapple, Falkirk, Antonine Wall & Bannockburn.
At the Craigs roundabout, take the Alloa and St. Andrews exit and right at the roundabout by the Peugeot dealer to continue along the A905, signposted Kincardine Bridge. Carry on via Fallin and Throsk. Just past Dunmore turn right onto B9124 Cowie – it's signposted to 'The Pineapple' (National Trust for Scotland).
Turn right at the lodge and along a narrow single track road to the car park You ca walk down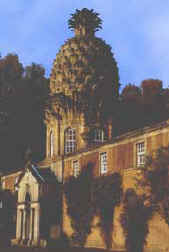 to see the 'Pineapple' which is now a holiday cottage. Back at the main road, turn right and continue through Airth for a couple of miles to the large roundabout where you take the 2nd exit A905 to Grangemouth. Follow Industry/Stadium signs at all roundabouts. Follow signs Newhouse Business Park/Urban Wildlife Centre to your left and then left into Wood Street then right into Jupiter/Zeneca project. A wildlife garden and visitor centre with all the usual facilities. Go back to the A905 and turn left.
Beyond Grangemouth continue on A905 to Grangemouth/Bo'ness and right to Bo'ness B904 and follow signs to Heritage Centre Steam Railway. The Bo'ness and Kinneil Railway and Scottish Railway Exhibition runs a service to Birkhill Fireclay Mine. Go back to the follow signs towards Falkirk A904. Then follow signs to Callander House.
Callander House is best described as a living museum, for the kids there is a large play area with picnic tables, coffee house and refreshment kiosk.
Now follow the signs to Camelon/Mariner Centre around Falkirk Town Centre to A803 – signed Glasgow. Continue on the A803 and follow signs Antonine Wall/Seabegs Wood/Rough Castle. In Bonnybridge bear left to High Bonnybridge B813. Over canal bridge and right for Antonine Wall /Seabegs Wood. A stretch of rampart and ditch with military way behind. Roadside parking. Return to canal bridge and turn right. Turn left for Antonine Wall and Rough Castle onto a narrow road and then a rough track to car park. Here you will find one of the best preserved lengths of rampart and ditch together with the earthworks of a Roman fort.
Return towards Falkirk A803 and at roundabout past the Mariner Centre follow Stirling/Larbert A9. At next roundabout take the right for Barbara Davidson Pottery - signposted. This is a fully functional working pottery with all the usual exhibitions and a wee shop selling pottery – and of course all the other usual souvenirs. Continue along A9 to Stirling.
As you near Stirling, watch for the signs to the Bannockburn Centre where you can find out all about Scotland's hero, William Wallace, and how he rallied Scotland to send the invader away 'tae think again'. This was the real 'Braveheart'. It is worth knowing that in real life, unlike the depiction in the film 'Braveheart, Wallace and Robert the Bruce did not fight together!
Map Showing Route south east from Stirling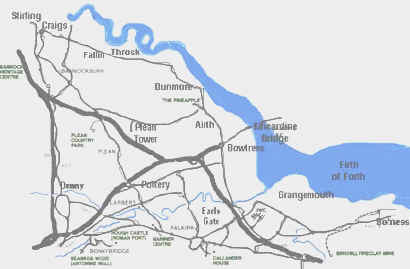 Visitor Attractions
The Pineapple (NTS) (grounds open all year; free)
Urban Wildlife Centre (UWC) (open all year; free) 01324 494974
Bo'ness & Kinneil Railway (runs daily summer, weekends April - Oct.; charge)01506 822298
Callander House (open all year; charge) 01324 503770
Antonine Wall/Seabegs Wood (open all times; free)
Rough Castle (open all times; free)
Pottery (open all times; free) 01324 554430
Plean Country Park (open all times; free) 01786 432364
Bannockburn Heritage (open March - Dec.; charge)
Centre (NTS) 01786 812664